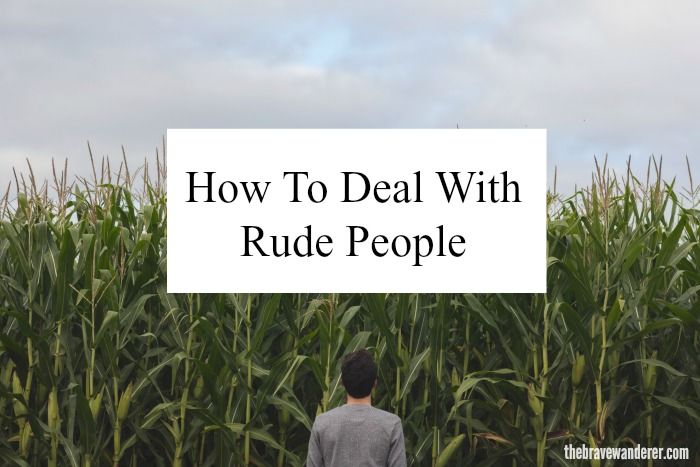 (image source)
The easiest way to react when someone is being rude, is to just walk away. Sure that would be easy, but life isn't always that easy and we can't always just walk away from something. Maybe that person is a co-worker we have to deal with on a daily basis.
No matter where the situation occurs and someone's behavior irks you, it is never a good idea to fight back. We all know that. It would only satisfy the perpetrator and encourage him to carry on with said behaviour.
Here are some tips for the next time someone tests your boundaries:
Take a deep breath. And stay calm. Count to 10. It will help you speak cleary rather than reacting emotionally.
Don't take the behavior personally. Maybe the offender is going through rough times, family problems, financial problems…etc. what might have evoked his offensive.
Be empathic. If you know that the person is struggling in some way, calmly say something like, "I know life can be tough and stressful, but please don't take your anger out on me. I'd appreciate if you could try and leave that at home. "
Try to encourage a positive reaction. In case you are being yelled at, kindly tell the person to stop yelling and to speak to you in a civilised manner, otherwise you will end the conversation and leave.
Punish with Humor. If someone comments rudely like, "Sorry, but they don't carry your size in that cute little boutique I went to last weekend." counter with a sarcastic "I might not be as thin as you are, but at least I don't have as many wrinkles." Of course, you could just not react to such a stupid comment at all, but sometimes being sarcastic helps a lot - it does for me, because I cannot always just be quiet about everything.
Take steps if necessary. In case someone bothers or bullies you constantly, there is no need in the world to put up with it. If that person is a co-worker or employee, report him to the boss. If he's a class-mate or fellow student, report him to the teacher or principal…and so on.
Unfortunately no-one can be prevented from having to deal with rude people. It happens to all of us, no matter what age we are or what situation we are in. Like I said at the beginning - the best thing to do is to just walk away and not react in any kind of way. But like I also said - that isn't always possible, so we need to learn a way to deal with it. I hope these tips will help.
Happy Monday
Hugs xxx
J O I N M E
FACEBOOK
●
TWITTER
●
INSTAGRAM